Belfast Bay Fiddlers is a loosely organized group of amateur musicians devoted to playing and sharing traditional fiddle music in Belfast, Maine.  Both lead and rhythm players are welcome – from fiddles, mandolins, recorders and whistles to guitars, banjos, accordion and percussion.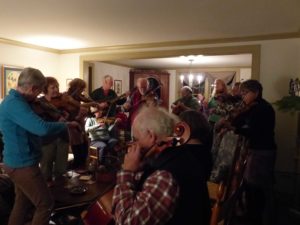 Belfast Bay Fiddlers jam sessions are on Sundays from 5:30 to 7:30 p.m. at the First Baptist Church, 95 High Street, Belfast, Maine.
The session is open to everyone at any playing level  Contact us if you have any questions or want to be put on the e-mailing list.
We usually play fiddle tunes from the New England contra dance tradition, the traditional music of French and Atlantic Canada, English country dance, Irish jigs and reels, old-timey music and the occasional song .  See the resources page for detailed listings of sources of written and recorded music or check out the weekly jam session page to see what tunes were played at the last session.